The "Donate A Bed" program was created to enable pet lovers to help bring a bit of the same comfort to rescue animals that yours enjoy at home. The program enables you to easily send beds and cozy fleece pads directly to Diamonds in the Ruff Canine Rescue at discounted prices.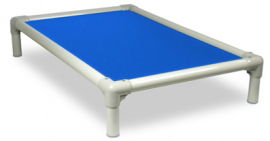 Kuranda Dog Beds are the number one choice of rescues because they are sturdy, comfortable, chewproof and easy to clean. Dogs enjoy the comfort of the raised bed which gives them a soft and dry place to relax. The fabric is tucked inside the frame so there are no exposed edges to chew and Kuranda beds are backed with a 1 year replacement warranty.
Easy to Clean - Kuranda beds are easily wiped clean with a sponge. The entire bed can be hosed off outside and washed with soap and water.
Guaranteed Chewproof - Kuranda beds have a patented design which secures the fabric inside a special channel in the frame totally inaccessible to dogs. There are no corner gaps in the fabric or exposed edges that a dog could grab and chew.


Comfortable - Kuranda beds provide firm support and an elevated barrier from cold, drafty or hard floors. The hammock design provides orthopedic comfort good for healthy hips and joints for dogs of all ages.


If you would like to donate a Kuranda bed to Diamonds in the Ruff Canine Rescue please
click here

Your order will be shipped directly to Diamonds in the Ruff Canine Rescue and a receipt will be mailed to you. It's that easy!